We are proud to work with Dr Agulia, (also known as "Dr A"), and share his passion for helping people lose weight and look great. "Dr A" has a fascinating story that he shared with us and we are confident that his products and services will add great value to those who choose to use it.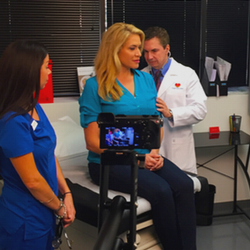 At In The Zone TV, we use three simple ways to create brand awareness to your ideal clients. Video marketing allows you to get instant engagement with your customers and prospects:
1. Use profile videos to tell your story of who you are and what you are offering. This creates brand awareness.
Here is a Profile Video that we did for 'Dr A' to help his "Weight Success Centers'' and his ''Weight Success Gourmet' business get exposure to the the marketplace.
Profile Videos are one of our most popular solutions to feature you and your company. Typically, they are in a 5-7 minute format to help bring your message alive. The video allows you to broadcast your message to the world. With just one click you can share it on YouTube, Social Media, and your website.
What We Do:
'In the Zone TV' can provide you the expertise and guidance using today's cutting edge video production and marketing strategies to drive your bottom line results.'In the Zone TV' , offers turn-key video & TV production services, for both broadcast and 'non-broadcast' video projects. We have an award winning production team, on air talents, camera crew, and editing staff to produce you a compelling finished product. From concept to completion, we supervise every detail, handling all phases of production.
Call us at 727-423-7536 or e mail us at hjohn@inthezonetv.com
Follow Us
[flexsocial size=32 align=left target=new]