For Immediate Release:
St. Petersburg, Florida-Despite heavy rains Thursday nite, "The Good LIfe Experience" Super Bowl Party launched without dampened spirits. Event co hosts Winky Wright and Sean P Diddy Combs turned the Venue Entertainment complex into party central for star celebrities and athletes.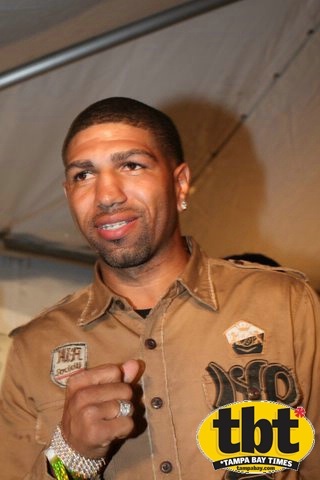 (Winky Wright)
While the Red Carpet turned into a Wet Carpet, the media and celebrities managed to make the best of the cold and wet weather and work through interviews and photos on a make shift Red Carpet area.
In the Zone TV, who is producing a local TV show called "Good Life Tampa Bay", was there to capture all the action and interviews. "H" John Mejia from In the Zone TV, who did interviews on the Red Carpet, said," I was really impressed on how the media pulled together and worked in harmony to do the celebrity interviews with limited space and adverse weather conditions ."
( "H" John Mejia and Bay News 9 reporter interviewing Ronnie Brown from the Miami Dolphins)
Among those stopping by for the party, NFL great  Deion Sanders, Ravens quarterback Joe Flacco, former Buccaneer Chidi Ahanotu, Bengals receiver Chad "Ocho Cinco" Johnson, Cowboys tight end Jason Witten, Dolphins running back Ronnie Brown, Bucs receiver Michael Clayton, American Idol winner Jordin Sparks, American Idol finalist Chris Richardson,  and Miss Africa USA Nyasha Zimucha.
One of the highlights of the night is when "P" Diddy finally made his arrival to talk to the media. He said that he was excited to be in Tampa and that tonite was only the beginning of "The Good Life Experience" and that his Saturday night party will be the over the top finale before the Sunday game! Rumors have it that Donald Trump, Paris Hilton and Tiger Woods are expected to make appearances.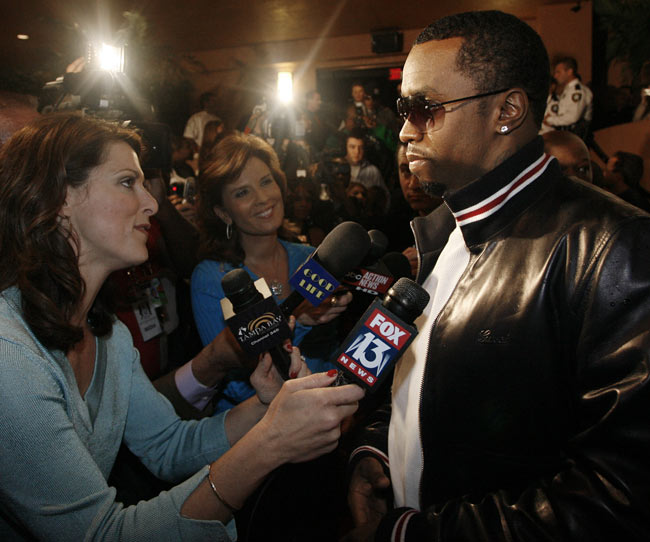 (P Diddy on the Red carpet)     (Photo by Willie J. Allen Jr in TBT)
CLICK HERE– "P" Diddy Video Interview from In the Zone TV –CLICK HERE
In the Zone TV is based in St. Petersburg, Florida and is a full service Video/TV production company. They have produced national and regional TV shows on Fox Sports Net and on Comcast. They are presently launching a local TV show called "Good Life Tampa Bay", a lifestyle magazine show that will cover the people, places and events that set the trend in the Tampa Bay area. They have won three Accolade Awards for their national Good Life TV show. In addition, they also work with many companies and help them use the power of video as an effective and powerful marketing tool to increase sales.
For more information, check out their website at www.inthezonetv.com, call "H" John Mejia at 727-423-7536 or e mail him at: hjohn@inthezonetv.com
                                           # # # 
________________________________________________________________________