For Immediate Release:
Tampa, Florida-Former NFL All-Pro linebacker for the Eagles and Cardinals, Seth Joyner, brought his unique and exciting charity event to Super Bowl week here in Tampa. The former All-Pro and Super Bowl champion, hosted a star studded celebrity event that consisted of a morning golf tournament and an evening poker event.
"The Par and Poker Celebrity Challenge for Charity" took place today and consisted of two parts: an 18-hole golf tournament at TPC Tampa Bay and a No Limit Texas Hold'em Poker tournament at Tampa Bay Downs.
"We are very excited that our hometown team is coming to Tampa," said Joyner. "We are looking forward to welcoming back the people who made last year's event in Arizona such a huge success and we now have an event for our fellow Phoenicians and Cardinals Fans!"
The event benefits the Joyner-Walker Foundation, a Phoenix-based charity dedicated to providing life skill programs to assist high school and college students in a way to prosper and be self sufficient.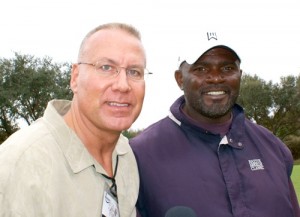 ("H" John Mejia and Lawrence Taylor)
In the Zone TV, who is producing a lifestyle magazine show called, "Good Life Tampa Bay", covered the event and did numerous interviews with celebrities: Seth Joyner/Lawrence Taylor/Eric Dickerson/Marcus Allen/Alfonso Rebeiro/Joe Carter/ Jonathan Ogden/Evander Holyfield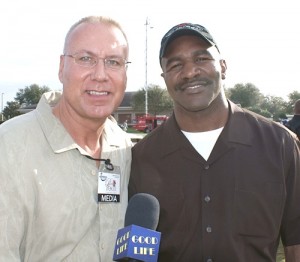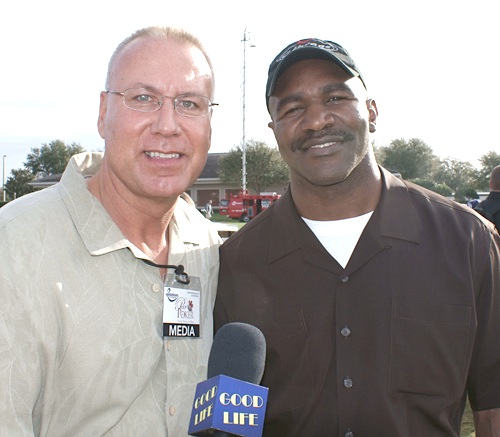 ("H" John Mejia and Evander Holyfield)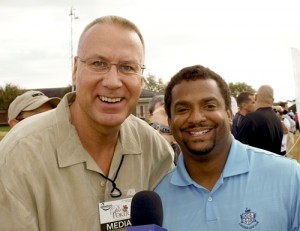 ("H" John Mejia and Actor/Producer Alfonso Rebeiro)
In the Zone TV -CEO,"H" John Mejia, said, "We have been to many celebrity golf events over the years, this was one of the most organized and high profile events I have ever seen. Seth Joyner is a great guy who has earned the respect, admiration and support from other celebrities because he is a stand up guy!"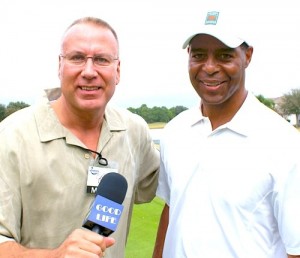 ("H" John Mejia and Marcus Allen)
In the Zone TV is based in St. Petersburg, Florida and is a full service Video/TV production company. They have produced national and regional TV shows on Fox Sports Net and on Comcast. They are presently launching a local TV show called "Good Life Tampa Bay", a lifestyle magazine show that will cover the people, places and events that set the trend in the Tampa Bay area. They have won three Accolade Awards for their national Good Life TV show. In addition, they also work with many companies and help them use the power of video as an effective and powerful marketing tool to increase sales.
For more information, check out their website at www.inthezonetv.com, call "H" John Mejia at 727-423-7536 or e mail him at: hjohn@inthezonetv.com
                                           # # # 
________________________________________________________________________